INTRODUCTION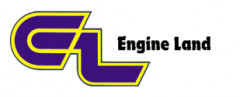 - INTRODUCTION -
---
A possibility of spreading infinitely.
Power of opening the door of creation of new business.
---
Now, in all the countries in the world, you cannot tell the prosperity without the move means and transportation means of a car. The spread of cars supports a life of people and the demand does not know the place as a factor which brings the broad possibility to society and economy.
However, among the countries called so-called Third World, the production system which fulfills this demand is not yet established, and the used car which became unnecessary in the advanced nation is disassembled from the difference of economic strength, the problem of a tax, etc., and it has a great hope for the organization of importing the part.Under these circumstances, the car in Japan which is an automobile power built reliance to the extent that it can be called "Japan Brand" from the quality and technical power.
On the Engine Land Co.,Ltd., these needs were caught promptly and the pace steady as a pioneer of this industry has been continued for the network which reaches about 50 nations of the world to the standard. Moreover, in transport by sea-vessels, more economical and strategic business is realized in Japan taking advantage of a geographical advantage called Kitakyushu which is proud of leading predominancy.
It is the power which it corresponds to an always new time, and the Engine Land Co.,Ltd. which continues a challenge globally based on adequate market judgment and abundant experiences always cultivates the time of one-step beyond, and is created.
---

The place of stock engines in a warehouse
---